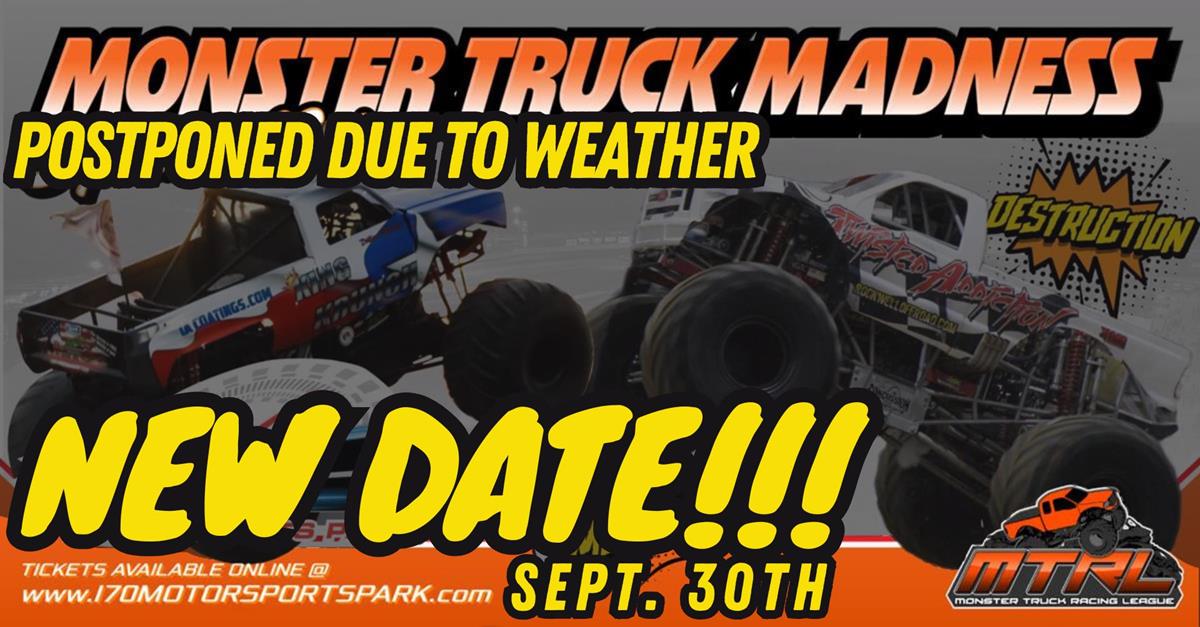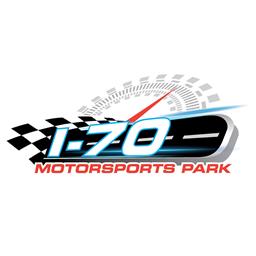 9/22/2023
I-70 Motorsports Park
---
MONSTER TRUCKS POSTPONED TO SEPT. 30 | DUE TO WEATHER
ODESSA, MO. (September 22, 2023) – I-70 Motorsports Park Officials and MTRL Officials have postponed Monster Truck Madness to Saturday, September 30, 2023 due to wet grounds at I-70 Speedway.
I-70's Monster Truck Madness was originally scheduled for Saturday, September 23. Saturated grounds and more rain in the forecast for the weekend prevents Monster Truck Racing League Officials from building the outdoor track at I-70 Speedway. It was scheduled to be built prior to Friday evening, September 22.
All pre-purchased online tickets will be redeemable for Monster Truck Madness on the new event date. The Monster Truck Racing League fan favorites King Krunch, Tail Gator, Amped Up, Nitro Hornet, Tantrum, Alcatraz, and more will be in attendance for the newly scheduled date Saturday, September 30. Every ticket purchased for Monster Truck Madness will grant access to the "FAN ZONE" where fans can see monster trucks up close and personal plus meet drivers for autographs and pictures.
This new event date brings the exciting addition of MONSTER TRUCK RIDES from 4:00 – 6:00 PM as well as after the show which will start at 6:30 PM. Fans can also expect to see freestyle motorcycles performing high flying tricks at Monster Truck Madness.
Discounted pre-sale General Admission (GA) tickets for Monster Truck Madness, Individual Suite tickets, and El Bandido Yankee Tequila Roof Top Bar tickets are available for purchase at https://thefoat.com/754384.
Adult General Admission = $25 per ticket online ($30 at the gate on September 30)
Kids Ages 4-12 = $5 per ticket
Kids 3 & Under = FREE
El Bandido Yankee Tequila Roof Top Bar (21+ Only) = $35 per ticket online ($40 at the gate on September 30)
Individual Suite Tickets = $55 per ticket
Full Suite Rental – Please Call (816) 393-0001
Kids ages 3 and under receive free entry. General Camping is free with purchase of event ticket or pit pass. There are 68 spots available and will be distributed on a first come, first serve basis. 6 Premium Trackside Camping spots are available to reserve at https://thefoat.com/754384.
DAY OF MONSTER TRUCK MADNESS TIMELINE (SEPT. 30):
12:00 PM – Camping Area Parking Open
4:00 – Ticket Office, Spectator Gates, & Merchandise Store Open
4:00 – 6:00 PM – Fan Zone Open (Meet drivers, get autographs, view Monster Trucks up close!)
6:30 PM – MONSTER TRUCK ENTERTAINMENT!
Spectators with additional inquiries regarding ticketing information are advised to email info@i70motorsportspark.com for further assistance.
Stay up to date with everything at I-70 Motorsports Park by following @i70msp on Instagram and Twitter and I-70 Motorsports Park on Facebook.
---
Article Credit: Brooke Shuman
Back to News