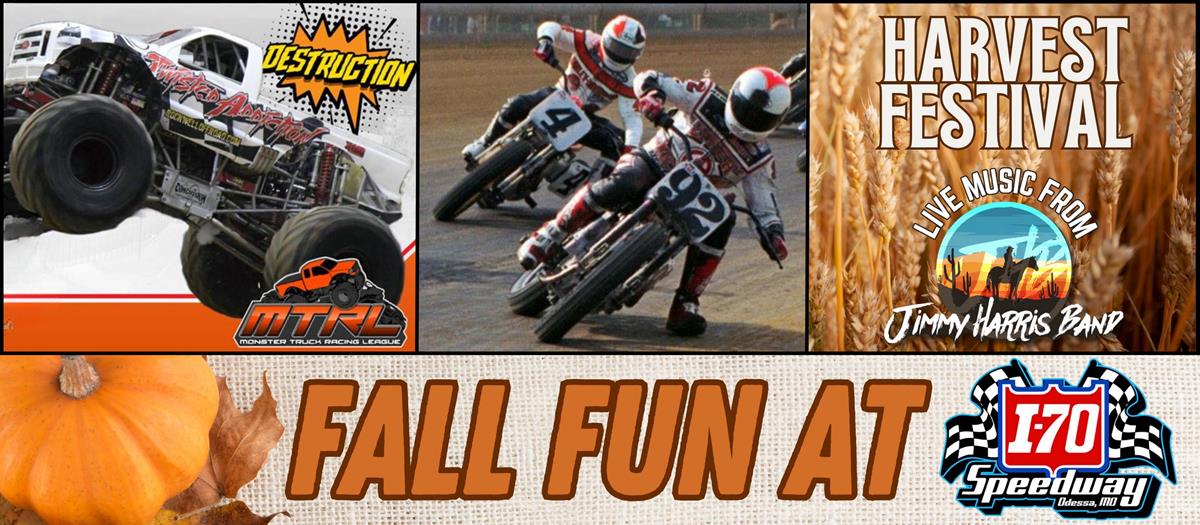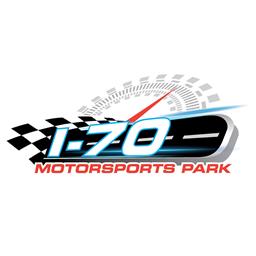 9/1/2023
I-70 Motorsports Park
---
MONSTER TRUCKS | FLAT TRACK MOTORCYCLES | HARVEST FEST
ODESSA, MO. (September 5, 2023) – As fall approaches, I-70 Motorsports Park prepares for the remaining 3 events of the 2023 season at the historic ½ mile dirt oval track. Up next is Monster Truck Madness on Saturday, September 30. Following monster trucks will be the Flat Tracker Classic featuring flat track motorcycles on Saturday, October 7. The finale of the 2023 I-70 Motorsports Park season is the two-day Harvest Festival on Saturday, October 21 and Sunday, October 22 with live music from Jimmy Harris Band, local vendors, food trucks, kid-friendly entertainment, and motocross racing.
Saturday, September 30 at I-70 will showcase the Monster Truck Racing League bringing fan favorites such as King Krunch, Tail Gator, Amped Up, Nitro Hornet, Tantrum, Alcatraz, Barbarian, and more. Every ticket purchased for Monster Truck Madness will grant access to the "FAN ZONE" where fans can see monster trucks up close and personal plus meet drivers for autographs and pictures. Discounted pre-sale General Admission (GA) tickets, Individual Suite tickets, and El Bandido Yankee Tequila Roof Top Bar tickets are available for purchase at https://thefoat.com/754384.
Flat track motorcycles make their highly anticipated return to I-70 Motorsports Park on Saturday, October 7 in partnership with Craig Dollansky Racing Promotions (CDR). Multiple classes will be competing including Big Twin, Classic Singles, and Modern Open. Pre-sale tickets are available for purchase here: https://thefoat.com/597784. Online tickets for the original date of this event already purchased will be accepted as entry for the new event date.
I-70 Motorsports Park has officially opened registration for the 2023 Harvest Festival taking place Saturday, October 21 and Sunday, October 22 from 11:00 AM - 7:00 PM daily. I-70's Harvest Festival is a family focused event centered around an Autumn theme. Hayrides, live music, games, face painting, hot chocolate, and pumpkins are a few things you'll be sure to see at this event. This will be a one-of-a-kind opportunity to shop small and support local food and merchandise vendors.
The Jimmy Harris Band will be performing live music at designated times that will be announced at a later date once finalized. I-70 Motorsports Park Officials are working with a local motocross group to provide entertainment during the Harvest Festival each day on a Tracy Freeman designed track. Saturday will be open practice with special contests in the afternoon. Sunday will be motocross races with awards and prizes handed to the top 5 in each class. Riders and teams seeking additional info can check out www.ridersgearup.com.
Vendors seeking to participate in I-70's Harvest Festival can review the Vendor Info & Application Document here: www.i70motorsportspark.com/vendors. Vendor spaces measure out 10'x10' each and will cost $200 per space for the weekend. Vendors are welcome to purchase multiple spaces if needed. Vendor spaces with electric provided are limited and will be charged an extra $50.
Valuable sponsor opportunities are available for the remaining 2023 events. Contact Ryan Haas for more information here: ryanhaas@forwardsportsmarketing.com.
Stay up to date with everything at I-70 Motorsports Park by following @i70msp on Instagram and Twitter and I-70 Motorsports Park on Facebook.
---
Article Credit: Brooke Shuman
Back to News