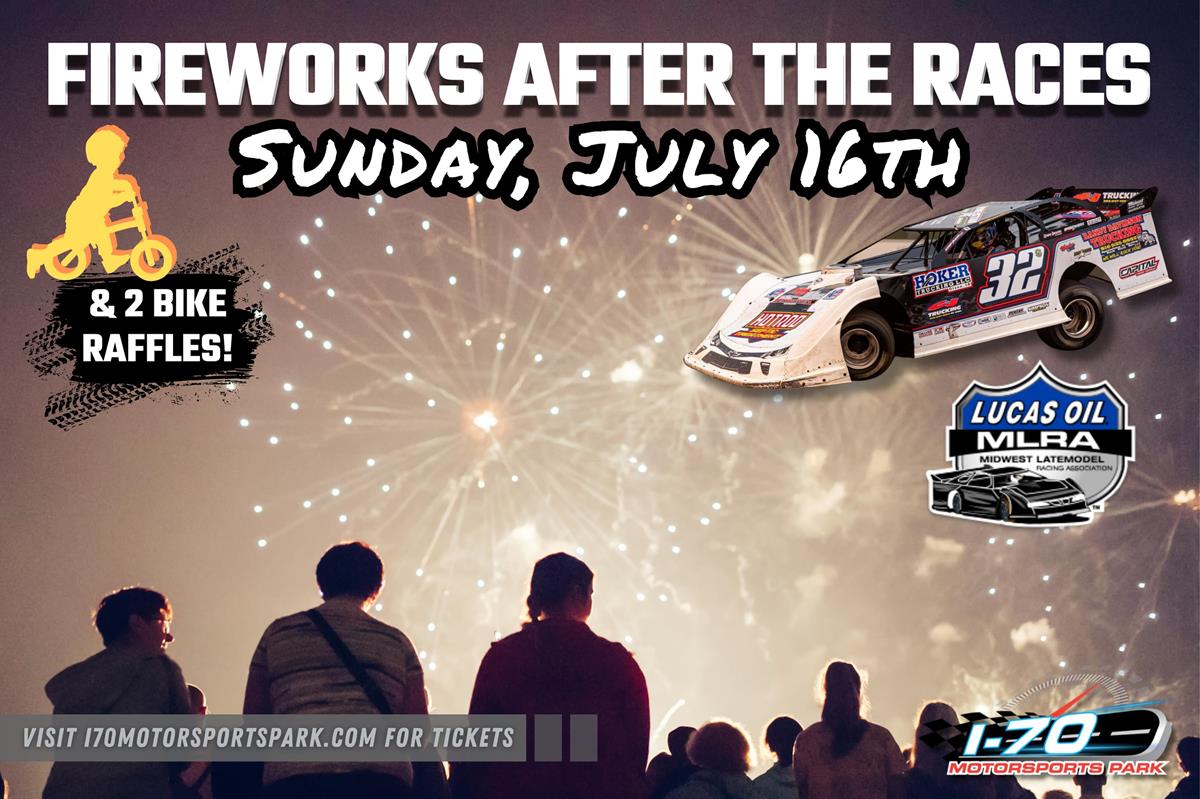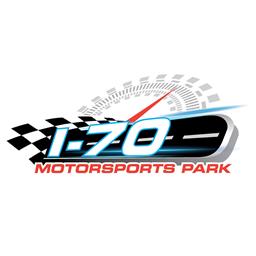 7/13/2023
I-70 Motorsports Park
---
FIREWORKS AFTER THE RACES THIS WEEKEND | JULY 16
ODESSA, MO. (July 13, 2023) — The Inaugural Firecracker 40's original event date of July 1 was postponed due to severe weather forecasts, but I-70, MLRA, and SMVR Officials were able to agree on a suitable make-up date that falls this weekend on Sunday, July 16. The Firecracker 40 will feature Lucas Oil MLRA Late Models plus Show Me Vintage Racing Cars. The finale of the evening will be an outstanding Fireworks Show Presented by J&M Displays.
The Lucas Oil MLRA Late Models will be competing at Lucas Oil Speedway in Wheatland, Missouri for the 17th Annual Diamond Nationals on Saturday, July 15 before traveling north to I-70 Speedway for the Firecracker 40 Sunday, July 16.
"I grew up racing on ½ mile dirt tracks, and I'm pumped to race at I-70 this weekend," said MLRA Competitor, Chris Simpson. "I love the speed ½ miles produce. I-70's Firecracker 40 will be a great event with lots of excitement for fans."
The FinishLine Graphics Co-Pilot Program will be open for sign-ups prior to Heat Races. Children 12 and under are invited to participate in this FREE program by checking in at the table outside the I-70 Merchandise Store from 6:00-6:30 PM. Participation gives each child a chance to take home prizes, meet their favorite driver, visit Victory Lane, win a commemorative trophy, and more!
In addition to the Co-Pilot Program, this weekend's Firecracker 40 will also provide an opportunity to win a FREE BIKE. TWO children's bikes will be up for raffle. Kids can sign up for this raffle at the Co-Pilot table near the I-70 Merchandise Store.
Pre-sale General Admission (GA), Individual Suite tickets, and El Bandido Yankee Tequila Roof Top Bar tickets for the Firecracker 40 are available for purchase at www.tinyurl.com/mr23s6kb.
Adult General Admission = $25 per ticket
Kids Ages 4-12 = $5 per ticket
Kids 3 & Under = FREE
El Bandido Yankee Tequila Roof Top Bar (21+ Only) = $40 per ticket
Individual Suite Tickets = $55 per ticket
Full Suite Rental – Please Call (816) 393-0001
Pit passes = $40 per person
Kids ages 3 and under receive free entry. General Camping is free with purchase of event ticket or pit pass. There are 68 spots available and will be distributed on a first come, first serve basis. 6 Premium Trackside Camping spots are available to reserve at www.tinyurl.com/mr23s6kb.
DAY OF FIRECRACKER 40 TIMELINE:
12:00 PM – Camping Area Parking Open
2:00 PM – Pit Gates Open
5:00 PM – Ticket Office, Spectator Gates, & Merchandise Store Open
6:00 - 6:30 PM – Co-Pilot Sign Up Opens in Merchandise Store
6:00 PM – Hot Laps
6:30 PM – Racing
SUNSET - FIREWORKS SHOW!
Stay up to date with everything at I-70 Motorsports Park by following @i70msp on Instagram and Twitter and I-70 Motorsports Park on Facebook.
---
Article Credit: Brooke Shuman
Back to News