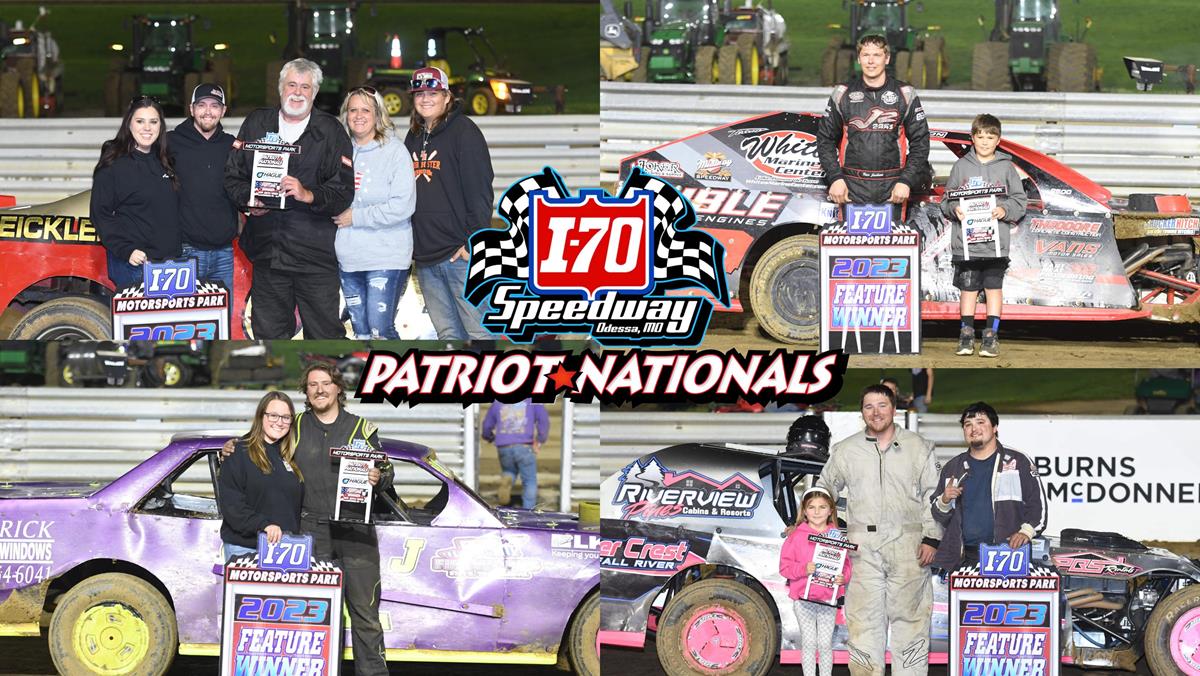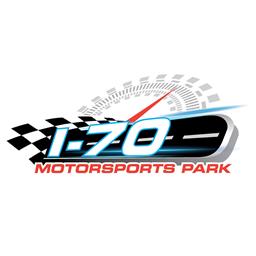 5/21/2023
I-70 Motorsports Park
---
JACKSON, WETTENGEL, BOYD & EICKLEBERRY VICTORIOUS AT I-70
ODESSA, MO. (May 22, 2023) – Kris Jackson (B-Mod), Jayle Wettengel (Stock Car), Josh Boyd (Midwest Mod), and Chad Eickleberry (SMVR) were victorious Saturday night, May 21, 2023, at I-70 Motorsports Park at the Hague Quality Water Patriot Nationals.
85 total racecars entered the inaugural event Saturday night. 29 B-Mods, 22 SMVR Vintage Cars, 19 Stock Cars, and 15 Midwest Mods/E-Mods.
Chad Eickleberry won the SMVR Vintage Cars event from the sixth starting position in a green-to-checkered feature. Jaylen Wettengel put on a clinic winning the Stock Car feature from the 12th starting position. Josh Boyd beat his brother, Zach Boyd who ran second, and picked up his first-career Midwest Mod win. Kris Jackson & Shadren Turner battled throughout the B-Mod feature making for an exciting show to round out the evening for I-70 race fans in attendance, and Jackson came out on top at the checkered flag.
SMVR Vintage Heat Race winners were John Martin, Damon Clevenger, and Andy Wiles. USRA Stock Car Heat Race winners were Darrin Schmidt and Kevin Anderson. Midwest Mods Heat Race winners were Josh Boyd and Zach Boyd. B-Mod Heat Race Winners were Terry Schultz, Luke Nieman, and Kris Jackson.
Up next on the 2023 I-70 Motorsports Park schedule is the POWRi Double featuring POWRi 410 Sprint Cars ($5,000 TO WIN) and POWRi/OCRS 305 Sprint Cars ($1,500 TO WIN) on Friday, June 16, 2023. Individual Suite tickets are available for purchase online as well as GA+Party Deck ticket packages. Kids 3 & under are FREE. Pre-sale tickets are available for purchase here: https://thefoat.com/111613
General camping is FREE with purchase of ticket or pitpass. There are 68 spots available. First come, first serve. Premium Trackside Camping is available for purchase online. There are 6 spots available. Reserve spots here: https://thefoat.com/111613
Complete results for the inaugural Hague Quality Water Patriot Nationals found below:
SMVR VINTAGE CARS
Heat 1 (8 Laps): 1. 63-John Martin[2]; 2. 5-Ed Neil[5]; 3. 2 D-Brandon Jordan[4]; 4. 58-Beth Martin[1]; 5. 02-Jeff Siler[6]; 6. (DNF) 113-Jim Thorne[3]
Heat 2 (8 Laps): 1. 6-Damon Clevenger[1]; 2. 09D-Chad Eickleberry[3]; 3. 54-Lawrence Waters[5]; 4. 14-Mickie Cook[4]; 5. (DNF) 8X-Dan Schmidt[2]; 6. (DNF) 81-Tom Charles[6]
Heat 3 (8 Laps): 1. 45-Andy Wiles[1]; 2. 9-Daniel Schmidt[3]; 3. 99-Jim Siewert[2]; 4. 2B-Brian Cox[6]; 5. 8-Rocky Rhodes[4]; 6. 42-Rob Brash[5]; 7. (DNS) 34-Larry Thierer
A Feature 1 (15 Laps): 1. 09D-Chad Eickleberry[6]; 2. 81-Tom Charles[9]; 3. 63-John Martin[2]; 4. 6-Damon Clevenger[5]; 5. 45-Andy Wiles[10]; 6. 54-Lawrence Waters[8]; 7. 2 D-Brandon Jordan[3]; 8. 2B-Brian Cox[15]; 9. 8X-Dan Schmidt[16]; 10. 8-Rocky Rhodes[13]; 11. 14-Mickie Cook[7]; 12. 02-Jeff Siler[4]; 13. 58-Beth Martin[1]; 14. 99-Jim Siewert[11]; 15. 9-Daniel Schmidt[12]; 16. 42-Rob Brash[14]; 17. (DNS) 113-Jim Thorne; 18. (DNS) 34-Larry Thierer; 19. (DNS) 5-Ed Neil; 20. (DNS) 32W-Bob Werkmeister; 21. (DNS) 27-Danny Lorton; 22. (DNS) 1A-Rodney Ashworth
STOCK CARS
Heat 1 (8 Laps): 1. 85-Darrin Schmidt[6]; 2. 21-Josh Everhart[3]; 3. 42C-Kacey Shields[10]; 4. 27-David Oxford[7]; 5. 11-Waylon Dimmitt[2]; 6. (DNF) 91J-Jaylen Wettengel[1]; 7. (DNF) 00-Nick Whalen[9]; 8. (DNF) 68-Dean Wille[4]; 9. (DNF) 11W-Gerald Wahwahsuck[8]; 10. (DNF) 24K-Daniel King[5]
Heat 2 (8 Laps): 1. 417-Kevin Anderson[7]; 2. 3X-Tony Manley[2]; 3. 74-Rodney Schweizer[5]; 4. 42T-Tim Shields[3]; 5. 5DJ-DJ Barnes[4]; 6. 39K-Shane Schmidt[1]; 7. (DNF) 5T-Robert Garst[9]; 8. (DNF) 39C-Lawrence Cobler Jr[8]; 9. (DNF) 03-Lance Dixon[6]
A Feature 1 (20 Laps): 1. 91J-Jaylen Wettengel[12]; 2. 74-Rodney Schweizer[6]; 3. 68-Dean Wille[15]; 4. 417-Kevin Anderson[1]; 5. 11-Waylon Dimmitt[9]; 6. 21-Josh Everhart[4]; 7. (DNF) 85-Darrin Schmidt[2]; 8. (DNF) 5DJ-DJ Barnes[10]; 9. (DNF) 42C-Kacey Shields[3]; 10. (DNF) 5T-Robert Garst[13]; 11. (DNF) 00-Nick Whalen[14]; 12. (DNF) 11W-Gerald Wahwahsuck[18]; 13. (DNF) 42T-Tim Shields[8]; 14. (DNF) 27-David Oxford[7]; 15. (DNF) 24K-Daniel King[19]; 16. (DNF) 3X-Tony Manley[5]; 17. (DNF) 39K-Shane Schmidt[11]; 18. (DNS) 39C-Lawrence Cobler Jr; 19. (DNS) 03-Lance Dixon
MIDWEST/E-MODS
Heat 1 (8 Laps): 1. 9X-Josh Boyd[3]; 2. 79J-Javier Fierro[2]; 3. 03-Justin Bell[6]; 4. 86-Doug Brisbin[5]; 5. 35-Shane West[1]; 6. 23M-Tim Manning[7]; 7. (DNS) 16-Brian Dultmeier; 8. (DQ) 28-Shawn Burns[4]
Heat 2 (8 Laps): 1. 6-Zach Boyd[2]; 2. 447-Kenny Prince[3]; 3. 4M-Steven Makar[7]; 4. 8-Devin Dultmeier[4]; 5. 00-Justin Dunn[6]; 6. 33-Jeremy Curless[5]; 7. 65-Jason Smith[1]
A Feature 1 (20 Laps): 1. 9X-Josh Boyd[1]; 2. 6-Zach Boyd[2]; 3. 4M-Steven Makar[3]; 4. 447-Kenny Prince[4]; 5. 33-Jeremy Curless[11]; 6. 8-Devin Dultmeier[8]; 7. 86-Doug Brisbin[7]; 8. 00-Justin Dunn[9]; 9. 03-Justin Bell[5]; 10. 79J-Javier Fierro[6]; 11. (DNF) 65-Jason Smith[13]; 12. (DNF) 35-Shane West[10]; 13. (DNF) 23M-Tim Manning[12]; 14. (DNS) 28-Shawn Burns; 15. (DNS) 16-Brian Dultmeier
B-MODS
Heat 1 (8 Laps): 1. 90-Terry Schultz[4]; 2. 18-JC Morton[1]; 3. 8S-Jon Sheets[5]; 4. 94-Jacob Ebert[8]; 5. 36-Brian Andrews[3]; 6. 27-Jarret Beach[2]; 7. 24T-Tyler Hughes[6]; 8. 21-Mark Smith[10]; 9. 9-NORMAN WEST[7]; 10. (DNF) 81-Austin Charles[9]
Heat 2 (8 Laps): 1. 181-Luke Nieman[1]; 2. 66-Ethan Isaacs[2]; 3. 90M-Jessie Mulich[4]; 4. 56-Shadren Turner[10]; 5. 236-Trevor Hand[5]; 6. 17L-Chris Leathers[7]; 7. 47-Tyson Lanfermann[6]; 8. (DNF) 66G-Ryan Gillmore[3]; 9. (DNF) 10W-Michael Wahwahsuck[8]; 10. (DNF) 6W-Matt Wacht[9]
Heat 3 (8 Laps): 1. J2-Kris Jackson[2]; 2. 1-Kyle Henning[6]; 3. 91J-Jaylen Wettengel[1]; 4. 28-Andy Bryant[3]; 5. Z28-Randy Zimmerman[5]; 6. 15A-Allen Anders[8]; 7. (DNF) 574-Adam Hall[4]; 8. (DNS) 5T-Robert Garst; 9. (DQ) 99-Brad Smith[7]
A Feature 1 (20 Laps): 1. J2-Kris Jackson[3]; 2. 56-Shadren Turner[5]; 3. 66-Ethan Isaacs[7]; 4. 28-Andy Bryant[12]; 5. 1-Kyle Henning[2]; 6. 18-JC Morton[6]; 7. 81-Austin Charles[26]; 8. Z28-Randy Zimmerman[15]; 9. 94-Jacob Ebert[9]; 10. 47-Tyson Lanfermann[20]; 11. 36-Brian Andrews[13]; 12. 24T-Tyler Hughes[19]; 13. (DNF) 90-Terry Schultz[1]; 14. (DNF) 15A-Allen Anders[16]; 15. (DNF) 91J-Jaylen Wettengel[11]; 16. (DNF) 27-Jarret Beach[18]; 17. (DNF) 236-Trevor Hand[14]; 18. (DNF) 17L-Chris Leathers[17]; 19. (DNF) 99-Brad Smith[29]; 20. (DNF) 90M-Jessie Mulich[10]; 21. (DNF) 181-Luke Nieman[4]; 22. (DNF) 8S-Jon Sheets[8]; 23. (DNF) 9-NORMAN WEST[22]; 24. (DNF) 574-Adam Hall[23]; 25. (DNS) 21-Mark Smith; 26. (DNS) 66G-Ryan Gillmore; 27. (DNS) 10W-Michael Wahwahsuck; 28. (DNS) 6W-Matt Wacht; 29. (DNS) 5T-Robert Garst
Photo Credit: High Fly'N Photos
---
Article Credit: Brooke Shuman
Back to News