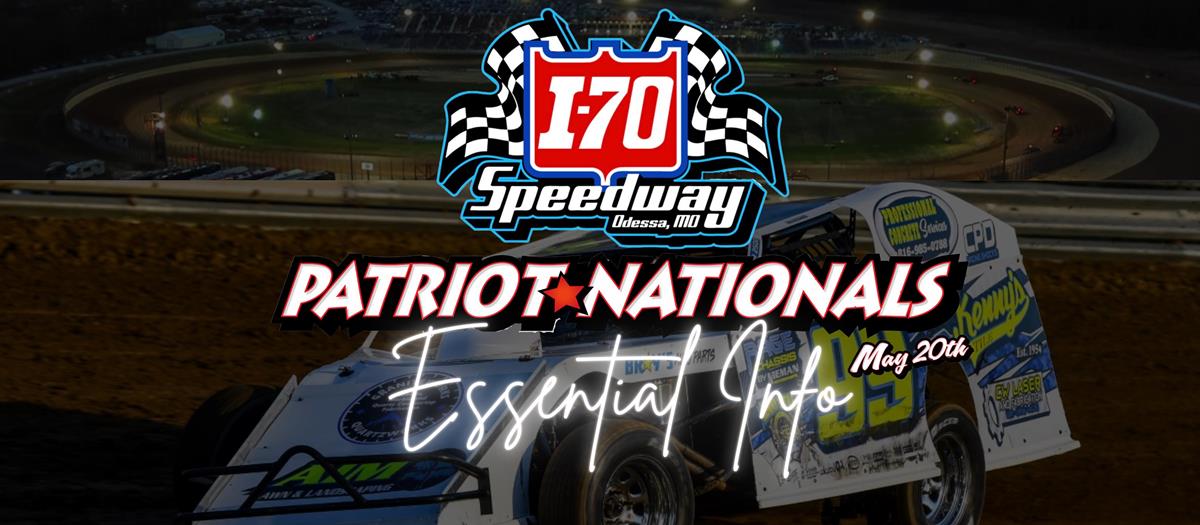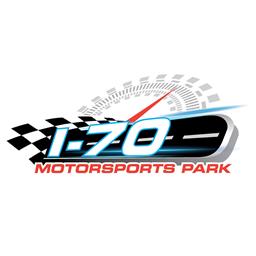 5/19/2023
I-70 Motorsports Park
---
HAGUE PATRIOT NATIONALS | ESSENTIAL INFO
ODESSA, MO. (May 19, 2023) – This weekend at I-70 Motorsports Park is the Hague Quality Water Patriot Nationals on Saturday, May 20, 2023. USRA + POWRi B-Mods, USRA + IMCA Stock Cars, and POWRi Midwest Mods + E-Mods will compete for one of their largest purses of the season at the inaugural event.
Headlining the Hague Quality Water Patriot Nationals, the USRA/POWRi B-Mods will compete for $3,000 to win. The USRA/IMCA Stock Car feature winner will take home $2,000, and the POWRi Midwest Mods/E-Mods will battle it out on the dirt ½ mile for $1,000 to win. The popular SMVR Vintage Cars will also be out on Saturday, May 20 at I-70 Motorsports Park to round out a versatile and thrilling night of racing. (Full payout details found below)
There will be a special Salute to Service Members Discount which offers $10 General Admission tickets to US Military, Veterans, Police Officers, and Firefighters. The Salute to Service Members $10 GA tickets will be available for purchase at the front gate on Saturday ONLY. Guests must show proper/official identification in order to purchase this discounted ticket.
Non-service race fans are encouraged to "PRE-ENTER" by purchasing tickets ahead of time to save $5 off their General Admission tickets. Use the promo code "PRE-ENTER" for $5.00 off General Admission tickets. Tickets are available here: http://thefoat.com/149657. This deal is available ONLINE ONLY. General Admission tickets for adults will bee $20 at the front gate Saturday.
Pit passes for all ages will be $40.
Kids ages 3 and under receive free entry. General Camping is free with purchase of event ticket or pitpass. There are 68 spots available and will be distributed on a first come, first serve basis. 6 Premium Trackside Camping spots are available to reserve at http://thefoat.com/149657.
DAY OF SEASON OPENER TIMELINE:
12:00 PM – Camping Area Parking Open
2:00 PM – Pit Gates Open
5:00 PM – Ticket Office, Spectator Gates, & Merchandise Store Open
6 - 7 PM – Co-Pilot Sign Up Opens in Merchandise Store
6:00 PM – Hot Laps
7:00 PM – Racing!
The I-70 Speedway Merchandise Store is stocked with great deals for everyone in the family. Kids coloring books, toys, t-shirts, hoodies, coozies, souvenirs, and more. The newest apparel design is centered around the iconic I-70 sign, and it's available in sizes S-3XL in hoodies or t-shirts.
CO-PILOT PROGRAM
I-70 Speedway has partnered with FinishLine Graphics to bring the Co-Pilot Program to our young fans! Children ages 12 and under are invited to participate in this FREE program by checking in at the I-70 Merchandise Store prior to heat races to draw in. Participation gives each child a chance to take home prizes, meet their favorite driver, visit Victory Lane, win a commemorative trophy, and more!
FinishLine Graphics is your one stop shop for custom trophies, printing, and apparel needs. Learn more here: https://www.finishline.graphics/
Pre-sale General Admission (GA), Individual Suite tickets, and GA+Party Deck tickets for the Hague Quality Water Patriot Nationals are available for purchase at a discounted price at http://thefoat.com/149657. Use the promo code "PRE-ENTER" for $5.00 off General Admission tickets.
Stay up to date with everything at I-70 Motorsports Park by following @i70msp on Instagram and Twitter and I-70 Motorsports Park on Facebook.
-- PAYOUT DETAILS --
USRA/POWRi B-MODS:
$3,000
$1,200
$750
$650
$600
$550
$500
$475
$450
$425
$400
$375
$350
$325
$300
$300
$300
$300
$300
$300
$300
$300
NON-TRANSFER - $100
USRA/IMCA STOCK CARS:
$2,000
$1,000
$700
$600
$500
$450
$400
$375
$350
$325
$300
$275
$250
$225
$200
$200
$200
$200
$200
$200
$200
$200
NON-TRANSFER - $75
POWRi MIDWEST MODS/E-MODS:
$1,000
$750
$550
$450
$400
$350
$300
$275
$250
$225
$200
$195
$190
$185
$180
$175
$165
$155
$145
$135
$125
$125
NON-TRANSFER - $75
---
Article Credit: Brooke Shuman
Back to News