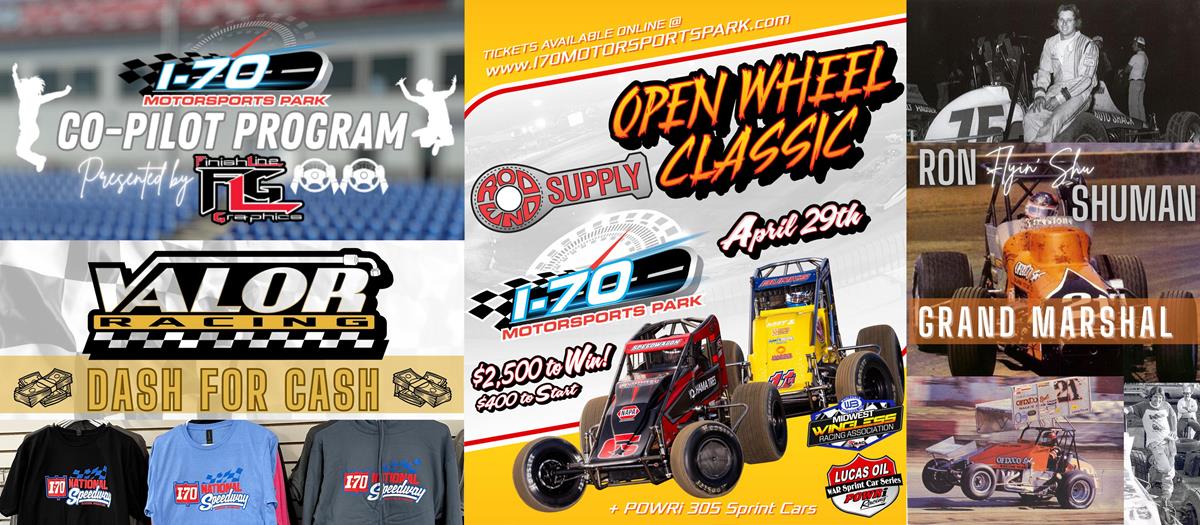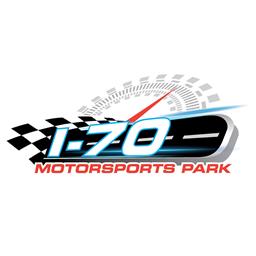 4/27/2023
I-70 Motorsports Park
---
SEASON OPENER ESSENTIAL INFO
ODESSA, MO. (April 28, 2023) – I-70 Speedway's 2023 Season Opener, the Rod End Supply Open Wheel Classic, is set for action this weekend on Saturday, April 29. With the event being Fan Appreciation Night, $10 General Admission tickets are available for purchase at the front gate Saturday, or fans can save time by skipping the ticket line and purchase tickets online with the promo code "i70FAN" at https://thefoat.com/233548.
Non-Wing Sprint Cars are widely considered the traditional sprint cars, dating back to the first sprint cars in the 1930s and 1940s. Rival sanctioning bodies, POWRi WAR Non-Wing Sprints and MWRA Non-Wing Sprints, will compete against each other for the first time at the Rod End Supply Open Wheel Classic to earn the trophy, $2,500 victory check, and bragging rights. POWRi's 305 Winged Sprints will also be on-site as the event's support class competing for $1,200 to win and $200 to start the A-Main event.
National Sprint Car Hall of Fame Member, Ron Shuman, will be on-site for I-70 Motorsports Park's season opener performing Grand Marshal duties plus an autograph session. Ron Shuman is an American sprint car race driver from Tempe, Arizona. He won the Turkey Night Grand Prix on eight different occasions from 1979, 1980, 1981, 1982, 1984, 1987, 1992 & 1993 and won the Knoxville Nationals in 1979. He was inducted into the National Sprint Car Hall of Fame in 2003.
"I'm very excited to return to I-70 and connect with race fans while supporting my son, Casey, in his new endeavor as General Manager of the historic venue," said Ron Shuman. "I've heard great things about the rebuild of I-70, and I'm eager to see non-wing sprint cars compete on the high banked 1/2 mile on Saturday, April 29."
DAY OF SEASON OPENER TIMELINE:
12:00 PM – Camping Area Parking Open
2:00 PM – Pit Gates Open
5:00 PM – Ticket Office, Spectator Gates, & Merchandise Store Open
5 - 6 PM – Ron Shuman Autograph Session
6:00 PM – Hot Laps
7:00 PM – Racing!
The I-70 Speedway Merchandise Store is stocked with great deals for everyone in the family. Kids coloring books, toys, t-shirts, hoodies, coozies, souvenirs, and more. The newest apparel design is centered around the iconic I-70 sign, and it's available in sizes S-3XL in hoodies or t-shirts.
CO-PILOT PROGRAM
I-70 Speedway has partnered with FinishLine Graphics to bring the Co-Pilot Program to our young fans! Children ages 12 and under are invited to participate in this FREE program by checking in at the I-70 Merchandise Store prior to heat races to draw in. Participation gives each child a chance to take home prizes, meet their favorite driver, visit Victory Lane, win a commemorative trophy, and more!
FinishLine Graphics is your one stop shop for custom trophies, printing, and apparel needs. Learn more here: https://www.finishline.graphics/
VALOR RACING DASH FOR CASH
Saturday's event will feature a thrilling standoff between POWRi WAR & MWRA Sprints! The Valor Dash for Cash pits 2022's top points finishers in a head-to-head battle for bragging rights and extra cash payout.
6 CARS
ALL DRAW FOR STARTING POSITIONS
5 LAPS
ALL PARTICIPANTS TAKE HOME EXTRA CASH
2022 POWRi WAR Sprints Points Top 3:
Kory Schudy
Steven Russel
Anthony Nicholson
---
ALTERNATES
Wesley Smith
Jack Wagner
Mario Clouser
2022 Points MWRA Sprints Points Top 3:
Wyatt Burks
Chris Parkinson
Chad Goff
---
ALTERNATES
Dakota Earls
Chad Winfrey
Brian Beebe
DASH FOR CASH PAYOUT
$300
$150
$125
$100
$75
$50
Shop with Valor Racing here: www.valor-racing.com
Pre-sale General Admission (GA), Individual Suite tickets, and GA+Party Deck tickets for the Rod End Supply Open Wheel Classic are available for purchase at a discounted price at https://thefoat.com/233548. Kids ages 3 and under receive free entry. General Camping is free with purchase of event ticket or pitpass. There are 68 spots available and will be distributed on a first come, first serve basis. 6 Premium Trackside Camping spots are available to reserve at https://thefoat.com/233548.
Stay up to date with everything at I-70 Motorsports Park by following @i70msp on Instagram and Twitter and I-70 Motorsports Park on Facebook.
---
Article Credit: Brooke Shuman
Back to News