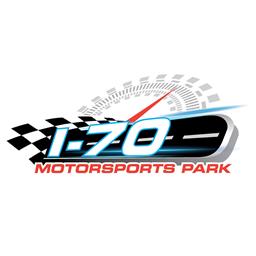 4/6/2023
I-70 Motorsports Park
---
HAGUE PARTNERS WITH I-70 AS TITLE SPONSOR OF PATRIOT NATIONALS
ODESSA, MO. (April 6, 2023) – Hague Quality Water, the longest-standing water treatment manufacturer in the United States, has partnered with I-70 Motorsports Park as the title sponsor of the inaugural Patriot Nationals on Saturday, May 20, 2023. USRA + POWRi B-Mods, USRA Stock Cars, and POWRi Midwest Mods will compete for one of their largest purses of the season at the inaugural Hague Quality Water Patriot Nationals.
"I'm proud to add Hague Quality Water to our list of reputable partners," said I-70 Motorsports Park General Manager, Casey Shuman. "We are eager connect I-70 patrons, racers, and supporters with Hague's high-quality water treatment solutions. I encourage everyone to visit the Hague Quality Water booth at I-70's Midway on May 20 to learn more about their products they design, engineer, and assemble in the USA."
Headlining the Hague Quality Water Patriot Nationals, the USRA/POWRi B-Mods will compete for $3,000 to win. The USRA Stock Car feature winner will take home $2,000, and the POWRi Midwest Mods will battle it out on the dirt ½ mile for $1,000 to win. The popular SMVR Vintage Cars will also be out on Saturday, May 20 at I-70 Motorsports Park to round out a versatile and thrilling night of racing.
Pre-sale General Admission (GA), Individual Suite tickets, and GA+Party Deck tickets for the Hague Quality Water Patriot Nationals are available for purchase at a discounted price at http://thefoat.com/149657. Kids ages 3 and under receive free entry. General Camping is free with purchase of event ticket or pitpass. There are 68 spots available and will be distributed on a first come, first serve basis. 6 Premium Trackside Camping spots are available to reserve at http://thefoat.com/149657.
For more information about Hague Quality Water, visit www.haguequalitywaterkc.com and follow "Hague Quality Water of KC" on Facebook and @marketing.haguekc on Instagram. Stay up to date with everything at I-70 Motorsports Park by following @i70msp on Instagram and Twitter and I-70 Motorsports Park on Facebook.
About Hague Quality Water:
Hague's patented designs deliver unmatched quality in the water treatment industry. Their flagship product, the WaterMax®, is the world's most comprehensive, most efficient home water treatment system on the market today. Hague engineers have developed those ideas for over 50 years to make sure that our products are the most efficient and innovative products for all.
Hague's goal is to always deliver the most durable and effective water treatment systems on the market, giving customers the softest, cleanest water every time. Dedicated to continued innovation in technology and service, Hague Quality Water International will have you feeling, tasting, and seeing the difference.
Hague Quality Water's motto is, "What's in your water?" If you would like to know, they can help you find out.
For more information and to shop Hague Quality Water products, visit www.haguequalitywaterkc.com.
---
Article Credit: Brooke Shuman
Back to News