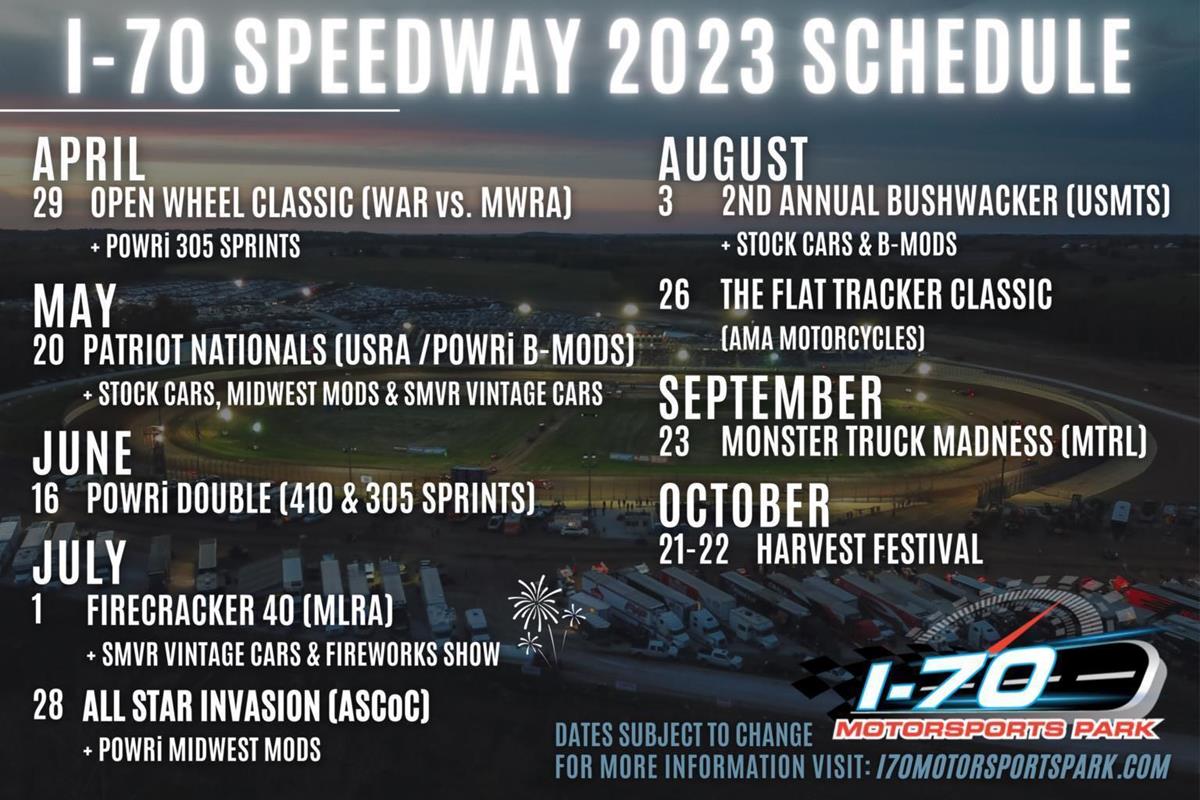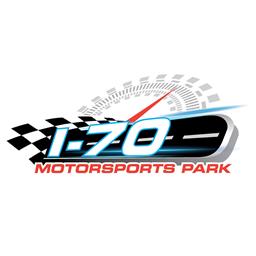 2/6/2023
I-70 Motorsports Park
---
I-70 MOTORSPORTS PARK 2023 SCHEDULE
ODESSA, MO. (February 6, 2023) – I-70 Motorsports Park's 2023 schedule has been finalized and newly appointed General Manager, Casey Shuman, has pieced together a diverse list of entertainment options for fans.
Since the rebirth of I-70 Speedway in 2021, the venue has focused on hosting special events only, and the 2023 schedule will parallel that approach coupled with innovative promotional efforts. Shuman and the I-70 Motorsports Park staff have been in constant communication while developing a promotional plan that will cater to sponsors, fans, and racers alike at the historical venue.
"I-70 Motorsports Park has such a 'big event' feel when you pull into the facility, and we are excited for our fans to feel that at every event in 2023," said Shuman. "We have a variety of quality events for everyone, whether you are an open wheel fan, fender fan, motorcycle fan, or monster truck fan. You will all have a chance to participate on the big stage here and enjoy memorable events at I-70."
2023 I-70 Motorsports Park tickets can be purchased by clicking HERE
Partnership opportunities such as select event title sponsorships, billboards, and more are available for the 2023 season with I-70 Motorsports Park. Interested parties should contact Ryan Haas for more details at ryanhaas@forwardsportsmarketing.com.
For other news and information on I-70 Motorsports Park head to www.i70motorsportspark.com, or follow us on Facebook, Instagram, and Twitter (@i70msp).
I-70 MOTORSPORTS PARK 2023 SCHEDULE :
4/29/2023 | I-70 Speedway – OPEN WHEEL CLASSIC (POWRi WAR Non-Wing Sprints vs. MWRA Non-Wing Sprints) + POWRi 305 Winged Sprints
5/20/2023 | I-70 Speedway – PATRIOT NATIONALS (USRA/POWRi B-Mods) + USRA Stock Cars, POWRi Midwest Mods & SMVR Vintage Cars
6/16/2023 | I-70 Speedway – POWRI DOUBLE (POWRi 410 Winged Sprint Cars & POWRi/OCRS 305 Winged Sprint Cars)
7/1/2023 | I-70 Speedway – FIRECRACKER 40 (MLRA Late Models) + SMVR Vintage Cars + FIREWORKS SHOW
7/28/2023 | I-70 Speedway – ALL STAR INVASION (ASCoC Winged Sprint Cars) + POWRi Midwest Modifieds
8/3/2023 | I-70 Speedway – 2ND ANNUAL BUSHWACKER (USMTS Modifieds) + USRA Stock Cars & USRA/POWRi B-Mods
8/26/2023 | I-70 Speedway – FLAT TRACKER CLASSIC (AMA Motorcycles)
9/23/2023 | I-70 Speedway – MONSTER TRUCK MADNESS (MTRL)
10/21/2023 – 10/22/2023 | I-70 Motorsports Park – HARVEST FESTIVAL
*Schedule subject to change
---
Article Credit: Brooke Shuman
Article Media
Back to News